Tracking Patient Flow Between Point-of-Care Locations
ORSuite
®
Patient Tracking tracks the flow of patients moving to and from point-of-care locations the day of surgery. The point-of-care locations are user-defined and site-specific. For example, admit locations may include surgical or medical wards, pre-operative locations may include same day clinics, pre-op holding, intra-operative locations may include each operating theatre, postoperative
chanel replica sale
locations may include recovery, PACU, SICU, and others, and discharge locations may also be included.
In addition to tracking the movement of patients from location to location, the hospital staff may also record user-defined events occurring at each location, resulting in a comprehensive audit trail of time-stamped perioperative events to be included in the electronic perioperative record ("EPR").
Below is an example of a Patient Tracking view of site-specific locations and events.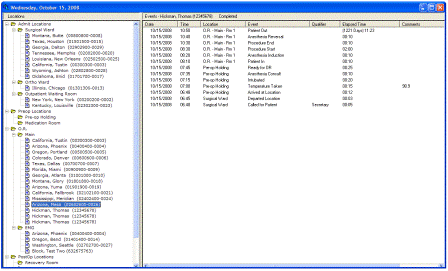 The left pane of the above Patient Tracking screen contains a list of site-specific point-of-care locations that can be collapsed, or expanded to reveal chanel replica the patients who are currently in each location. By clicking a patient name in the left pane, an audit trail of locations, arrival and departure times, as well as events recorded, and comments are displayed in the right pane.
Recording Events
With just a few clicks, user-defined events can be recorded at each user-defined point-of-care location, and become part of the perioperative record.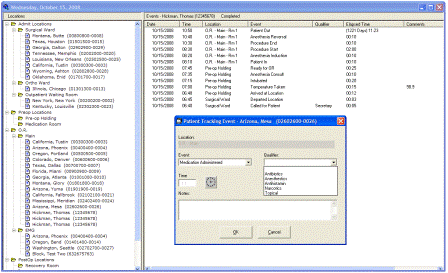 Moving Patients From Location to Location
Using the event window, it's also possible to move a patient from one point-of-care location to another, automatically recording arrival and departure times. It's also chanel replica handbags possible to record qualifiers defined by the user, such as who approved the move.
The Patient Tracking view below shows an example of recording a move event.